An analysis of land-use change (1995-2015) in Gorakhpur district, Uttar Pradesh
Keywords:
Land use, land use pattern, land-use change, current fallow land, old fallow land
Abstract
Land plays a key role in the determination of human economic activities as well as one's social, cultural and political progress. All agricultural activities, animal husbandry, forestry, cereal productions etc. depends on the quality and productivity of the land. The entire terrestrial eco-system which comprises soil, water, air, plants and minerals survive on land resource. It helps to meet the demands for food, energy and needs of human livelihoods. Land use, precisely, refers to the sectoral utilization of a unit of available land in a given time. The proper utilization of the land enables economic development in a region. However, land-use changes are increasingly recognized as major factors of global environmental change. Land utilization analysis is needed to generate a general framework of strategic and effective management and an understanding of the characteristics of the land. This study analyses the changes in land use pattern recorded over two decades (from 1995 to 2015) in the Gorakhpur district of Uttar Pradesh. The study goes
on to nd that positive growth has been recorded in the unproductive land use categories and negative growth in the productive ones due to uncontrolled and haphazard anthropogenic practices. Productive land use such as net sown area (7.02%), forest area (1.31%), area under the bush forest & garden (0.36 %) and pasture (0.02 %) decreased whereas unproductive land use such as barren cultivable wasteland (0.44%), present fallow land (4.12%), area put to non-agricultural use (2.09%) increased during two decades.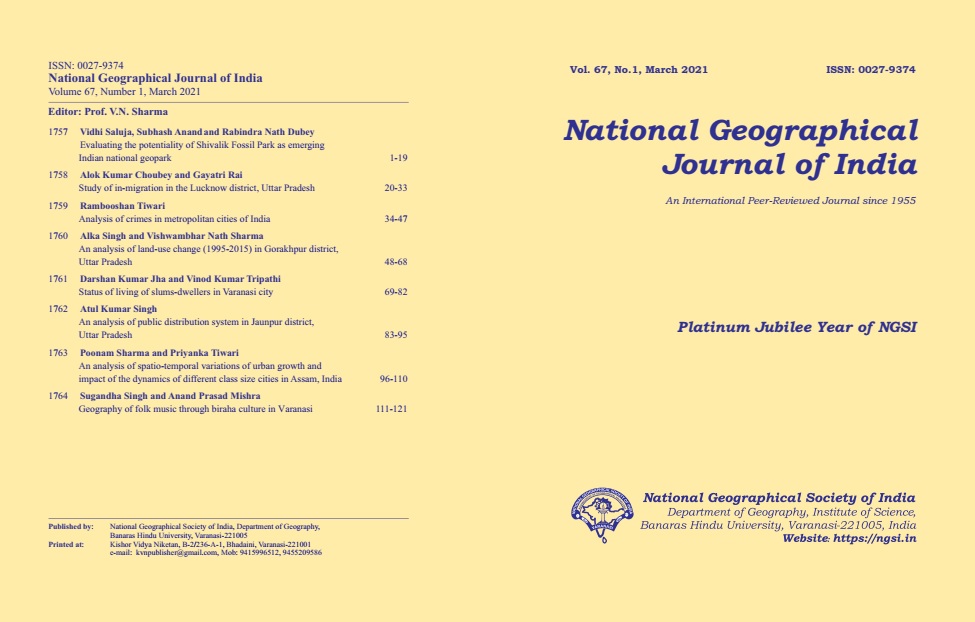 How to Cite
Alka Singh, & Sharma, V. N. S. (2022). An analysis of land-use change (1995-2015) in Gorakhpur district, Uttar Pradesh. National Geographical Journal of India, 67(1), 48–68. Retrieved from https://ngji.in/index.php/ngji/article/view/310